Invisalign
Are you noticing that your teeth are starting to shift?  Are your teeth beginning to chip and/or develop notches by the gum line?  Do you have spaces between your teeth where food gets trapped?  All of these factors are most likely related to and caused by misaligned teeth.  Teeth that are not positioned properly in your mouth can create what dentists call "malocclusion."  When left untreated, malocclusion can lead to periodontal disease and create abnormal amounts of stress on teeth and jaws, which leads to premature wear. 
Periodontal Disease:  When teeth are crowded together, plaque with harmful bacteria gets trapped in between the teeth and around the gum tissue.  Plaque can be difficult to remove from crowded areas because it is difficult to floss here.  Bacteria can cause gum tissue surrounding the tooth to degrade, and if not treated, can result in bone loss.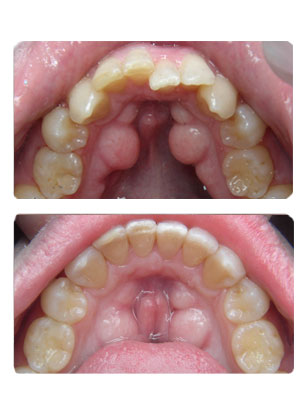 Wear and Trauma: Poorly aligned teeth can create unnatural stress and pressure to the teeth and jaw bone.  This can result in chipping and notches at the gum line called abfractions.  Premature wear can lead to poor root support, loose teeth, and eventually, tooth loss.
The solution to malocclusion is having the teeth straightened by either traditional braces or with Invisalign, the clear alternative to braces.  To read more information about Invisalign, look under the dental health services tab on Dr. Levine's website.  Dr. Levine is now a preferred provider with Invisalign.  If you are concerned that you might have malocclusion, schedule a consultation with Dr. Levine and she will discuss which option is best for you.